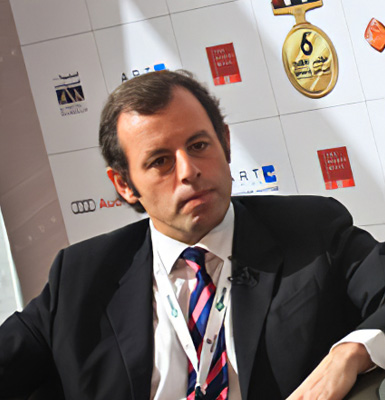 FC Barcelona President, ECA 2nd Vice Chairman
Born in Barcelona in 6.3.64. Degree in Business Administration and MBA for ESADE. In 1990 he started working in COOB'92 in the International Marketing Department as responsible of the International Sponsors. In 1993 he was Manager in Spain of the Swiss company ISL, a sport marketing company and the commercial agent of CIO, FIFA, FIBA, UEFA and IAAF, as well as of the LFP.
In 1996 he joined Nike, as responsible of Sports Marketing for Spain and Portugal, position held during three years. He was the architect of the Futbol Club Barcelona contract, which is still in force.
In 1999 he went to Rio de Janeiro and worked there as Sports Marketing Manager of Nike in Latin America. Among others, he managed the contract between Nike and the Brazilian Football Confederation.
He came back to Spain in 2002 and founded the company Bonus Sports Marketing, S.L (BSM), which works in the sports marketing field. Among other projects the company has developed one called Football Dreams. Now a day it is in its 3rd edition and takes place in Africa, Asia and Latin America.  The main goal of this project is to use football to help the social development of the African continent.
He was also Vice-President of FC Barcelona for two years (2003-2005). In June 2010 he was elected as the new President of FC Barcelona.
Nowadays, the president of the club, as head of the Foundation, signed the following agreements:
Alliance with the Bill & Melinda Gates Foundation. Both are working to eradicate polio, through awareness campaigns and joint actions.
Partnership with UNICEF. In 2011 the agreement with UNICEF was renewed for five more years, in which FC Barcelona will continue to donate 1.5 million euros annually, to UNICEF, to implement, together, projects based on the promotion of education through sport.
Alliance with Pies Descalzos Foundation. They're working together on the project "Football for youth development and a healthy life".
Partnership with the Inter-American Development Bank (IDB). Both entities have launched the 'Partnership for sport and development. On the road to the 2014 World Cup, and the 2016 Olympics'.