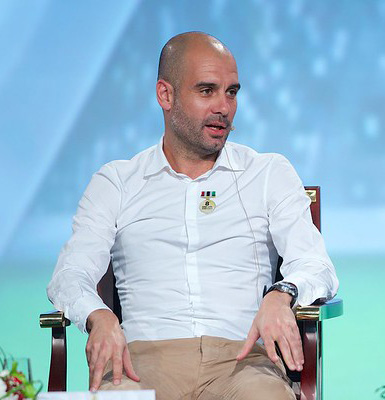 Josep Guardiola is a Spanish football player and manager, currently head coach of German Bundesliga club Bayern Munich.
As a player, Guardiola was a defensive midfielder and spent the majority of his playing career with FC Barcelona. He also played for Brescia and Roma in Italy, Al-Ahliin in Qatar and Dorados de Sinaloa in Mexico while attending management school.
After retiring as a player, Guardiola became coach of FC Barcelona B, and in mid-2008 he succeeded Frank Rijkaard as the first team manager. In his first season at Barça, he won the treble of the Liga, the Copa del Rey, and the Champions League. In doing so, Guardiola became the youngest UEFA Champions League-winning manager ever. During the following three seasons, Guardiola and Barcelona won 2 Liga Titles, 1 Copa del Rey, 3 Spanish Supercups, 1 Champions League, 2 UEFA Super Cups and 2 Club World Cups.
On 30 June 2012 Guardiola quit as Barcelona manager, after winning 14 titles in four years in charge of the club.
On 16 January 2013 Bayern Munich announced that Guardiola would join the club for the 2013–14 season.