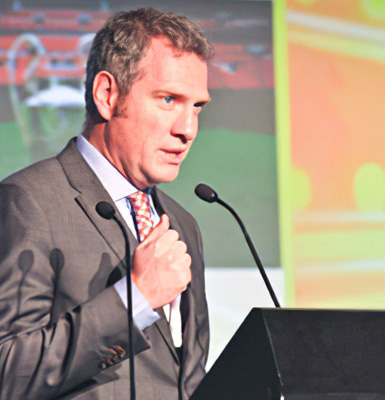 UEFA Events SA Marketing Director
Guy-Laurent Epstein is the UEFA Events SA Marketing Director
After four years working as a consultant for Arthur Andersen, he decided to shift his career towards sports marketing and worked for the 1998 World Cup in France. After that, he joined ISL Marketing (and then FIFA Marketing) where he was in charge of the licensing programme for the 2002 World Cup.
He joined UEFA in October 2002 and became Head of Marketing Activities in December 2004. In 2005, he then created the Media Rights unit which is responsible of the overall sales of the UEFA competitions TV rights, which he managed till March 2010, when UEFA decided to set up a new company – UEFA Events SA – to handle all UEFA's commercial and event operations, in order to deliver a better and streamlined service.
Consequently, Guy-Laurent was appointed Director of Marketing of UEFA Events SA and as such, he is responsible for the ongoing development of the marketing and commercial activities across all competitions of UEFA.