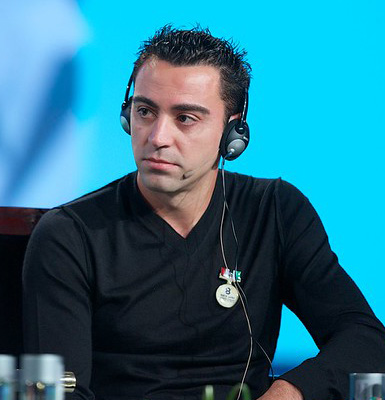 FC Barcelona Football Player
Xavier "Xavi" Hernández i Creus (25 January 1980) is a Spanish footballer who plays as a central midfielder for FC Barcelona and the Spanish national football team.
He played a key role in Spain's victory at the 2010 World Cup, as well as both Euro 2008 and Euro 2012. He was named Player of the Tournament by UEFA at Euro 2008. Xavi was selected in the 2010 World Cup All-star Team and the UEFA Euro Team of the Tournament in 2008 as well as 2012. Playing for Barcelona, Xavi won the Man of the Match award in the Champions League Final in 2009.
Xavi has won more trophies (25) than any other Spanish player in history. He won the World Soccer Player of the Year award in 2010 and he has been awarded the IFFHS World's Best Playmaker award 4 times (2008, 2009, 2010, 2011) and the Prince of Asturias Award for Sports in 2012.